Enacfire's growth is astonishing, their brands are rapidly famous in Amazon's market. The Enacfire issues several wireless earbuds and almost all of them are so popular. The Enacfire E60 is one of the wireless earbuds that are very very popular on eBay and has scored more than 4.5 stars. The key things we will discuss in this Enacfire E60 review are ideal for running?
The E60 providing six different sizes of ear tips lets you can choose the best fit for your ears and not easily fall out while running or do any activities.
The charging case is perfectly designed in an ellipse shape and beautiful with matte black. The front is located of four LED lights indicate the power status. With the strong magnet inside the case, the buds will place in a snug fit and tight into their case, and not easy to fall out of the box.
The earbuds' overall design, an ergonomic allows buds tight and secure fit. However; it has an opportunity to fall out while you running or doing hard exercise if you do not choose the tip size to fit your ears. The shape of buds is quite bulky and I think it's not perfect for who those have small ears.
When the earbuds sit into your ears, you may take some time for accustomed and feel comfortable. However; they are fit and secure and fit in your ears, that's why the E60 has a very good to block out noise. They have no active noise cancellation features but with an ergonomic design, these cheap wireless earbuds thus working well in passive noise cancellation.
In terms of sound quality, I accept that these wireless earbuds are not the best sound quality on truly wireless earbuds. It can't compare to Sony WF-1000XM3 or Sennheiser Momentum True Wireless 2. If you are an audiophile and focus on sound quality, the Enacfire E60 will nor ideal for you. But nevertheless; it's not too bad, the sound performance is reasonable for the price. The sound is good enough to make you enjoy listening to music while running.
The most thing when mentioning the best running earbuds, that are water-resistant. You have to ensure that sweat or rain will not destroy your earbuds while workout. And the Enacfire E60 will do that, thanks to IPX8 water resistance. With the highest waterproof rating, IPX8, you can wear them outside without worry about the weather. The Enacfire E60 can protect from sweaty or hard rain (but the charging case does not).
They have a playtime of 8 hours for a single charge on earbuds. That's enough for daily running or exercise. When plus with a charging case, you have more playtime up to 48 hours.
Compare Enacfire E60 with Other Enacfire Wireless Earbuds
Enacfire E60 Vs Sennheiser CX 400BT Vs Raycon Performer E55
Enacfire E60
Specs:  fit-type: in-ear, dimension: 2.50″ x 1.45″ x 1″, weight: 0.18 ounces
Features: Bluetooth 5.0, wireless earbuds & wireless charging case, IPX8 waterproof, aptX deep bass, playtime: (earbuds: 8-hours/charging case: 5 x 8-hours) – total playtime are 48-hours, built-in dual microphone, ergonomic and sport design, CVC8.0 noise-canceling, touch sensor
---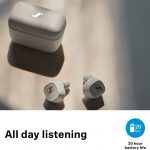 Sennheiser CX 400BT True Wireless
Specs: fit-type: in-ear, dimension: 2.32″ x 1.33″ x 1.67″,weight: 0.42 ounces, total harmonic distortion: <0.08% (1kHz / 94dB), app: Smart Control app, driver: dynamic 7mm driver, battery life: 7-hours (single charge)/20-hours (with charging case), OS compatible: iOS/Andriod,
Features: true wireless,  customizable touch control, ergonomic design, support voice assistant, automatic on/off, Bluetooth 5.1, codec support: AAC/aptX/SBC,
Accessories Included: CX 400BT True Wireless, silicone ear adapter sets (in size XS/S/M/L), USB-C charging cable, charging case
---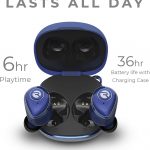 Raycon Performer E55
Specs: fit-type: in-ear, dimension: 6.89″ x 4.41″ x 1.93″, weight: 9.31 ounces, playtime: 7-hours (single charge)/35-40 -hours (with charging case)
Features: true wireless earbuds, deep bass, secure & comfortable fit, support wireless charging, built-in mic: 2 mics, waterproof rating: IPX6, Bluetooth 5.0, Bluetooth range: 33-feet/10-meters
Accessories Included: Performer Raycon earbuds, 5 ear tips (different sizes),  USB-C charging cable, small charging case, user manual
---
Skullcandy Sesh Evo
Specs: fit-type: in-ear, dimension: 7.28″ x 4.21″ x 1.54″, weight: 63.5g,  frequency response: 20 – 20 kHz, impedance: 32 ohms, total harmonic distortion (THD): <3% at 1KHz, SPL (sound pressure level): 99 – 105dB, driver diameter: 6mm, playtime: 5-hours (earbuds)/ 24-hours (with charge case),
Features: true wireless in-ear, use either bud solo, 3-EQ mode selectable (music/movie/podcast), built-in tile technology, IP rating: IP55 sweat & water & dust resistance, Bluetooth 5.0